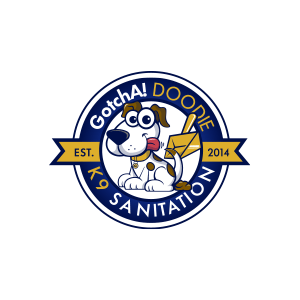 Benjamin Marc designs a new pet logo!
New specialty company, GotchA! Doodie, is on the verge of taking Long Island by storm. First by marking it's territory with a captivating company pet logo. Created earlier this year by owner Michael Colongione, GotchA! Doodie is a pet waste removal company. They offer specialty services in picking up canine waste from yards and disposing of it in a safe and sanitary way.
Colongione, who is the founder and owner of GotchA! Doodie's well-known and reputable sister company, GotchA! Bed Bug Inspectors, is all too familiar with what it takes to build a successful business. He knew that the single, most important factor is in the calculated and creative design of a pet logo for his company. For such a critical job, he knew there was no company better to take on the task, than the experts at Benjamin Marc, a Long Island graphic design. The result, an amazing company pet logo that is unique, appealing, and guaranteed to drum up business for GotchA! Doodie.
Benjamin Marc designs a new pet logo!
A striking blend of artistic creativity and professional flare, GotchA! Doodie's company logo easily puts to shame. The puzzling task of turning a rather unpleasant chore or service, into something rather alluring. This pet logo design features an adorable cartoon puppy with white fur and brown, floppy ears and brown spots. In fact, it completely eliminates all negative associations, including that of picking up poop. Although there is a pile of poop sitting right next to the pup's behind, the golden shovel, in the background, appears to be ready to save the day, declaring GotchA! Doodie the pooper-scooper hero! Aside from the overpowering desire of grabbing the puppy, the rest of the dog logo is a flawless image of professionalism and excellence.
Running through the center of the circle and dog logo is a flowing, gold ribbon, emblematic of the prize winning, elite services the company provides. These clever additions appear to resemble a golden seal or official seal of approval. Even the color combination is an example of strategic brilliance and purpose. While gold has always been representative of perfection, and excellence, along with the royal blue the combination rings similar to the colors of police officers' uniforms. In the end, this ingenious logo portrays with the innovative help of pet logo designer. Benjamin Marc provides an image that is a perfect mixture of charm and professionalism. Ultimately, the logo sparks interest and provides dog owners with a simple solution to that pesky, disgusting chore.