Hey Queens, NY!
Queens Web Design
Consultation.
Looking for the right Queens web design company can be a challenging task.
Research.
Finding the perfect one can make all the difference in attracting and retaining customers.
Plan.
The goal is to establish a unique design that sets you apart from your competitors.
Results.
Do you want to receive a custom design that is tailored to your specific needs and objectives?
If you're looking for a professionally designed website that's tailored to your exact specifications, then you landed on the right webpage. Queens web design company, Benjamin Marc specializes in providing a one-stop shop for all of your digital needs. Ranging from content writing and social media marketing to search engine optimization services. With clients spanning businesses both small and large, we have the experience needed to deliver exceptional results with each project we take on. Whether it's launching an online store or simply modernizing the look of your existing website, our team at Benjamin Marc is sure to get it done without compromising quality or customer service.
Our team of skilled Manhattan web design professionals, developers, and marketers work hands-on with clients to ensure that every aspect is tailored to their unique needs. Benjamin Marc not only creates beautiful websites, but we also prioritize functionality, responsiveness, and user experience. Moreover, we keep our clients in the loop every step of the way. This ensures that deadlines are met and expectations are exceeded. When it comes to digital marketing Benjamin Marc is the way to go.
Our approach to design is rooted in the belief that every project is an opportunity to make something great. Our team at Benjamin Marc truly believes that good design can solve problems & inspire people.
631-334-4359 Call/Text Us!
SEO
Design, Develop, Provide!
It's all reflected in our work!
Our designs use clean lines, bold typography, and vibrant colors to grab your attention. Our style is both modern and timeless, reflecting our commitment to creating designs that are both innovative and enduring. 
High Quality Web Design Process
We pride ourselves on providing a wide range of services to help our clients succeed in the digital world. Every business is unique, which is why we offer a tailored approach to meet your specific goals.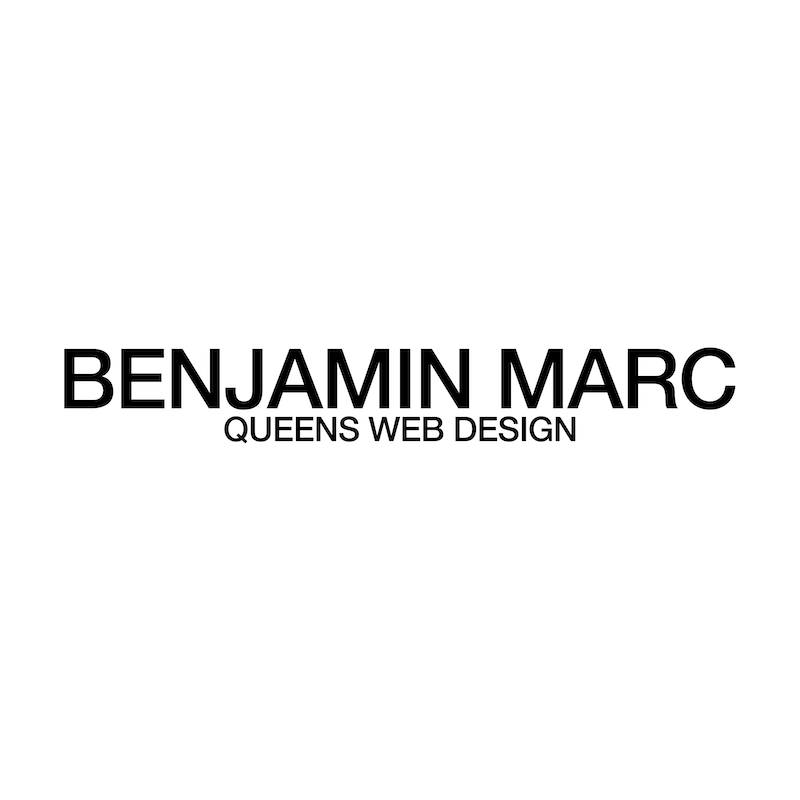 When it comes to creating a website for your business, you want to make sure everything is just right. That's where working with a local creative agency can make all the difference.
Why Work With A Local Web Developer in Queens, NY?
A local company has a deeper understanding of your target audience. Being close by they can provide personalized attention and support throughout the entire design process. With a Queens web design company, you can rest assured that your website will not only look great, but also effectively represent your brand and connect with your local customers.
Ultimately, by choosing to work with Benjamin Marc you benefit from our sophisticated knowledge and techniques. Our focus on customer satisfaction and high-quality output amplifies our responsive designs and quick turnaround times. With expansive design capabilities and an array of services available, your ideas can come to life. Put simply, choose Benjamin Marc to guarantee the efficient delivery of stunning professional results every single time.
Modern and stylish designs.
Are you tired of settling for anything less than exquisite when it comes to your website? If so, then you're at the right place! New York Web Design Agency, Benjamin Marc is here to bring all your unique visions to life. From personal websites to commercial projects, we are committed to delivering an exceptional customer experience that will exceed expectations and set us apart from other development companies. With cutting-edge technology and high-end design features at our disposal, let's explore how we can create a custom solution just for you!
Recent Blog Posts
Read some our latest blog posts, news and updates.