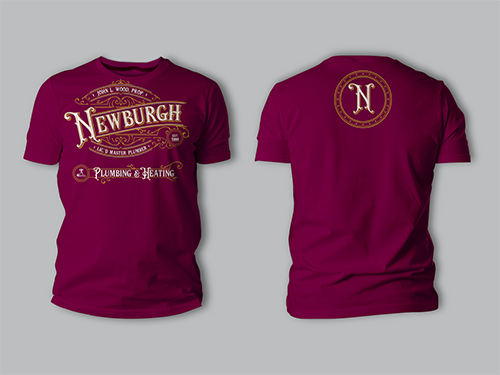 3 Screen Printing Tips
Welcome back to our blog, we missed you. This article is 3 screen printing tips to make sure your clothing comes out perfect! In the branding world uniformity means a lot, especially when you are looking to make a statement. We have been through thousands of designs and dozens of different types of clothing through the years. What is that phrase our parents always say? If we knew back then what we know now. So, Benjamin Marc is trying to give some simple pointers to save you time and money. Our screen printing team has been styling and designing clothing for over 15 years.

3 Screen Printing Tips
1- Artwork. Make sure that the artwork you provide to your screen printer is in vector format. We suggest that your artwork for the clothing is pretty basic. Some of our clients have some complex logo designs. This may make it difficult to read on clothing. Remember people passing you by are only glancing at your clothing for a second, so your message needs to be clear. As a logo design company, we can take complex artwork and simplify it for our clients. Most screen printers have graphic designers on staff and can do the same for you.
2 – Proofing. Most screen printing companies provide a digital proof to clients before they go to print. Go through that proof to look for spelling, grammar and check the sizing of the artwork on the clothing. Benjamin Marc also gives the exact size of your artwork on the clothing and where it will be placed. Look below for a sample of our proofs we give to clients.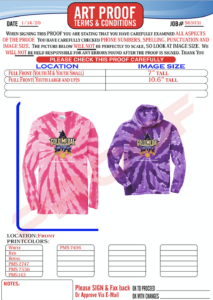 3-Clothing. Most of our clients order a minimum of 36 pieces of clothing. This is a good amount of clothing to order so we must make sure they like what they are wearing. We give our clients 2 options when it comes to screen printing. 1, our clients can buy the clothing that they like to wear and drop it off at our shop to print. 2, they can purchase 1 sample from us to see if they like the material. We are a full clothing distributor so we can order any brand of clothing but we want our clients to be 100% satisfied. So this helps.
We hope you enjoyed 3 screen printing tips and be sure to check out our instagram for our portfolio.