3 tips to get better SEO results
SEO is becoming one of the most important ways to advertise all businesses these days. After you read 3 tips to get better SEO results it may make more sense to you. Having a presence in the search engines can really make a strong impact in daily business. What is SEO? As per MOZ (SEO GODS) SEO is the practice of increasing the quantity and quality of traffic.
This process seems fairly easy. We can all explain our businesses fairly well but when it comes to putting it on a website, it can get tricky. Like me, I write the way I speak. So, it may sound great on a phone or in a business meeting, but it doesn't always transpire to the screen too well. What works for me is I try to break down the key points when doing content writing. This helps us get better seo results as well.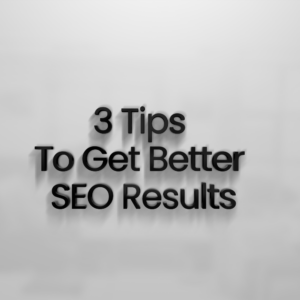 1- Content Writing (Switch It Up)
Usually people rebuild their websites every 3-4 years. That is a common practice but the content usually goes along with that. Google loves content we all know that, so it is important to switch it up. Rewriting your main SEO pages can help your overall rankings. Look at it like this. If Google crawls your website weekly and they see the same content you ranking may stay the same. But, if you have something new to say and sprinkle in new keywords, this is key.
2- Spelling and Grammar.
We all have habits or writing and talking fast, which can be effective but we are prone to make human mistakes. Guess who doesn't like mistakes? Search Engines. Grammar and Spelling mistakes can negatively effect your overall rankings. Luckily enough most web editing softwares have spell check but make sure you re read all content to make sure it is high quality.
3- Broken Links
We all know that incoming and outgoing links are essential to helping your SEO. It is a good way to keep the bots crawling. Making sure that they are connecting properly can make a big difference. Having a broken link on one of your pages can cause a negative reaction to your rankings. Being an SEO company, I try to read everything slow and check all my links manually. There are several broken links plugins and online checkers to help you along the way.
Hope you enjoyed 3 tips to get better SEO results!
SEO is constructing your content to build higher quantity with quality links to your website.