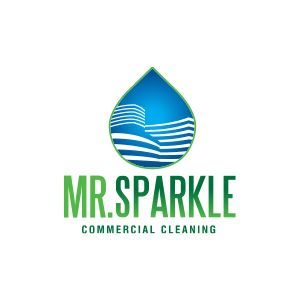 Residential Cleaning Service Logo Design
Mr. Sparkle Cleaning Services is a professional cleaning service located on Long Island.
---
Mr. Sparkle offers professional cleaning services for both residential and commercial customers. With a comprehensive list of services, tailored to meet the needs of all consumers. Services range from schedule house cleaning, seasonal services, and cleaning for moves. Mr. Sparkle also offers deep cleaning services post extermination or construction and even bed bug cleaning. There is no job they can't handle.
Mr. Sparkle hires Long Island Logo Design agency, Benjamin Marc to create their residential cleaning service logo.
Benjamin Marc and Mr. Sparkle worked together to design a fun, yet effective residential service cleaning logo. Benjamin Marc's logo design team created the new logo using green, blue and white colors.  Selecting a font that is narrow and sleek, gives this logo a "clean" feel. Adding a water droplet on the top of the logo, signifies the washing away of dirt. This residential cleaning service logo, shows customers what type of services they will be receiving. It is both appealing to residential and commercial consumers, who are looking for cleaning services.
Over the years, Benjamin Marc and their logo designers have worked together with many different cleaning companies.  Being able to create both modern and traditional logos for clients is what Benjamin Marc prides itself on. When designing a logo for a cleaning company, it is important to make the logo minimalistic. The reason for this is to ensure the logo can be used in cross promotions, such as screen printing, banners, flyers, automobile wrapping and much more.
For more of our residential cleaning services logo, check out our Instagram.