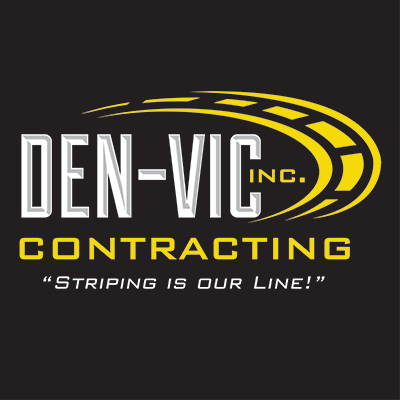 Tips on creating the best contractors logo design
There are so many different types of contractors that specializes in a wide array of trades. Everyone of them has a separate skill set, even if they are in the same type of business. Being a graphic design company we have had the pleasure to work with dozens of contractors. In this article we give tips on creating the best contractors logo design to help future contractors and designers.
---
Benjamin Marc is excited to showcase their latest collaborative work of art. Den-Vic Contracting, Inc. is a full-service pavement striping company with over 25 years of industry experience under its belt. As well as their custom logo we also were retained as their printing company for stationary. WBE/DBE certified specializing in giving roadways, parking lots, and other pavement areas a fresh, new look. With their wide range of services, which include epoxy markings, thermoplastic markings, line removal, tape & more. They give so much emphasis on giving their clients' properties vibrant, flawless, facelifts. Den-Vic Contracting, Inc. decided it was time to do the very same things for their own company.
Tips on creating the best contractors logo design
The Den-Vic contractor logo design is an extraordinary display of blending old and simple, with new and intricate. This carefully calculated balance results in a clean, yet interesting and dynamic industy logo, symbolic of the Den-Vic Company and all of its services. The plain, yet powerful background of a stark black color is representative of the asphalt, paving surfaces, which is truly Den-Vic's canvas. It also serves an additional purpose, as it accentuates the pavers logos two other colors, yellow and white, making them standout and become the true focal points. The colors and design replicate the highlighted, glowing look pavement lines and markings. In regards to design, Benjamin Marc took a rather simple, yet extremely effective approach.
With little more than the company name and slogan, Den-Vic's pavement contractors logo design is straight forward. While the words "DEN-VIC" are created in a relatively square-based font, it symbolizes the clean, white lines that outline roads and parking lots. However, the font boasts a touch of flare as it is looks three-dimensional. Finally, aside from "INC." and "CONTRACTING" in bright yellow, the only additional design is that of a curved roadway, a graphic representation of the company's services and industry.
When it comes to a contractors logo design, sometimes the clean-cut, straightforward approach to design is the most powerful.
To see more designs by us please visit our instagram.