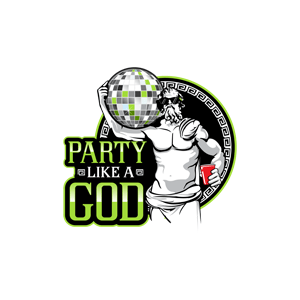 Tips on creating the best party planning and supply logo
PARTY LIKE A GOD – The evolution of of good times.
Here are tips on creating the best party planning and supply logo.
---
Whether it is through personal experience, or media representations, a good party looks like it is easy to pull together. From the outside looking in when you are invited to a party it all seems pretty basic. Food is ordered, drinks are put out, and the music is pumped up.
Wrong.
It can be very stressful to throw a great party that will keep people talking days later. The party planning and supply business is something that takes major pressure off families when it is time to party. That is why this business is genius. When Party like a God's founder contacted Benjamin Marc to create their logo design we were thrilled. The outline of the logo was that it needed to reflect the same presence that Ancient Greek and Roman gods do. Alternatively, the party logo needs to be somewhat light-hearted. It should convey that the God of Partying would be the answer to their prayers for a successful event.
With these elements and some ideas of their own, the team at Benjamin Marc got to work to create a party logo. The client also expressed that they would be doing screen printing on clothing and apparel. After a number of test designs the party logo started to take shape. The Party Like A God logo looks like he would be just as comfortable on Mount Olympus as he would at a party.
Tips on creating the best party planning and supply logo
Wrapped in a toga while sporting a pair of sunglasses, the logo is represented in black, white & green. The stark representation evokes the marble statues found in museums, projecting power. But with a splash of color he appears ready for fun, mirrored disco ball on one shoulder and a cup in his hand. On closer look at the logo he has a smirk that seems to demand the best party ever. When Benjamin Marc presented the logo, the Party Like A God team had their man. To check out more design visit our instagram