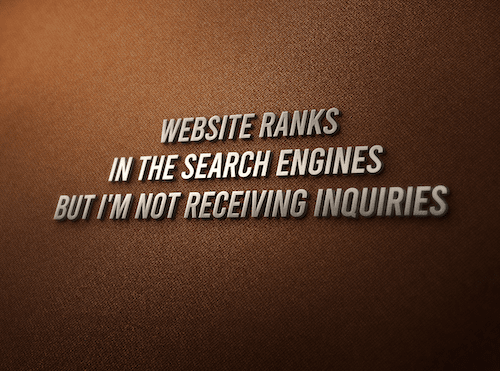 Website Ranks In The Search Engines But I'm Not Receiving Inquiries
As a web design and marketing company one of our main goals is for our clients to grow their business. Whether that is to sell their products or provide services, conversation is our priority. From the logo design, to the website to the SEO, it must all be on point to convert an online visitor to a client. As an SEO company we will get calls from people who will say, "my website ranks in the search engines but I'm not receiving inquiries".
Once we take them on as a client we go through a thorough analyzation of their website. If the website wasn't designed and built by us then we need to check every factor. The fact that the website ranks in the search engines for your desired keywords is a positive sign but why aren't you receiving inquiries? We will break down a few reasons why this might be happening.
1- Website Not Converting?
Although you may feel that your website has all it needs to covert an online visitor to a client, it may not. Picture yourself in a consultation with a new client. They are asking you questions about your business, your services, the products you offer, etc. This information must be on your website and it must be easy to find. In order to convert a website visit to a phone call or email the information about your company must be front and center. Your products, services, links to your social media and a way to contact you should be on your homepage as well as their own landing pages.
2- Wrong Keywords:
Another reason why you might not be receiving any phone calls could be that you have the wrong keywords. Ranking your website is not the problem, we have established that. But 🤔, what keywords are you ranking for? Have you researched the keywords before applying them to your website? Often times we are unsure of what people are searching for when looking for our types of products and services. Luckily there are ways to do research on highly searched keywords to help us along.
3- Time:
Time and patience are 2 very important things when you are doing SEO. If you have reached the top of the search engines and your not receiving inquires just give it some time.